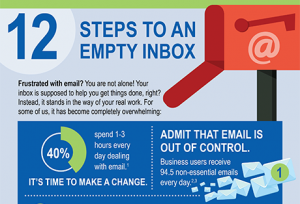 For a lot of us, email doesn't work the way it should. Email should help us communicate, collaborate, and stay organized. It is a great tool, but if your inbox is constantly full of dozens of messages (or hundreds, or even more), it can be overwhelming. Instead of helping you get work done, email might be standing in the way.
At Sendio, an overflowing inbox is a tragedy, because email is our passion. Since we're always looking for ways to help you improve how you use your email, we created a new infographic titled "12 steps to an empty inbox."
The infographic spells out a few simple tips to get your inbox back on your side. Give it a quick read, because your inbox shouldn't have to be your enemy.