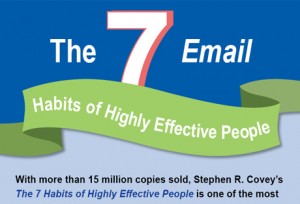 Did you know that the average worker spends almost 30% of their time managing email – and a lot of that time is wasted due to inefficient processes? You probably don't need us to help you do the math to figure out how much money your company wastes because its employees need to spend so much time wading through their inboxes.
Inspired by Steven Covey's famous book, Sendio's newest infographic 7 Email Habits of Highly Effective People offers quick ideas to help everyone at your company spend more time getting real work done and less on email. We took Covey's classic habits like "put first things first," "think win-win," and "sharpen the saw" and applied each one to email use.
Email takes up a lot of your day, so forming good email habits will go a long way toward making you a highly effective employee.