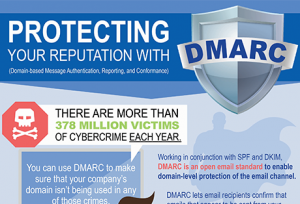 Who doesn't like a two-for-one? If you do, you'll love DMARC – short for Domain-based Message Authentication, Reporting, and Conformance. DMARC protects your customers and your reputation from spammers. Sendio's newest infographic Protecting Your Reputation with DMARC will teach you
What DMARC is,
Who uses DMARC,
Why you should use DMARC, and
How you can start using DMARC.
Sendio makes it easy for you to manage your DMARC records. Want to learn more? Call (949) 274-4375 or fill out this form to schedule a free demo.